Arctic packlist
Lofoten living is easy, but as is with any destination, preparation is key. Here is some must have essentials for your trip to the Arctic.
Your photo gear!
Take it from our photographer friend Pete Veale: "Lofoten is the easiest place to be a photographer, whatever direction you point your camera, you will get a banger". So bring your drone, bring your camera or just your cellphone.
Oh, and for northern lights photos the cameras with longer shutter times excel.
Good hiking shoes
What are scenic views, if you can´t see them from the top of a mountain? Just kidding, there are plenty of views to get from your car or just the window at the Lodge. But, hiking is fun, good exercise and will get your mind of work. The best hiking shoes for Lofoten is good old-fashioned boots or some water-resistant running shoes. Trails here are in many cases non-existent.
Woolen thermals are truly integrated in the Norwegian culture, and for good reason. You can literally wear a shorts and a t-shirt mid-winter, as long as you have your thermals under. If you get wet, you will still be warm with your woollen thermals.
Really, they are the solution to every cold related problem, you can get your thermals and other cold climate gear @verkstedetbutikk, right under the lodge.
Wind proof jacket and pants
Let´s just get this out the way, we are pretty weird. We LOVE storms. The heavier storms, the better. They are truly one of the coolest ways to get in touch with nature.
Taking a walk on the beach and seeing the waves hit, exploring nooks and crannies to find sheltered surf or just sitting inside with a cup of hot cocoa watching the wind. Better than any TV-screen!
Car
To get the most out of Lofoten you should bring your car. Not that you need one, you will also get by without. There is not a place in the world you will feel as free, but without a car you may have to rely on others in certain situations.
But luckily for Lofoten – we got a big supply of rental cars. So we have the best deal you will end up finding in most of the developed world – as low as 400 euros pr. Month.
It´s worth it to roll around in Lofoten in your own pimped out 90s Toyota Corolla.
Bring your passion
We like to claim that Lofoten is the ultimate mecca for bringing out the most of your passion.
Like to paint or make music? You will find inspirational views around every corner.
Are you a hardcore outdoorsman/woman? You will find world-class spots, whether it´s hiking, climbing or surfing or just about anything.
Whatever your reason to go – you will most likely find it here. Hit us up if you want more information!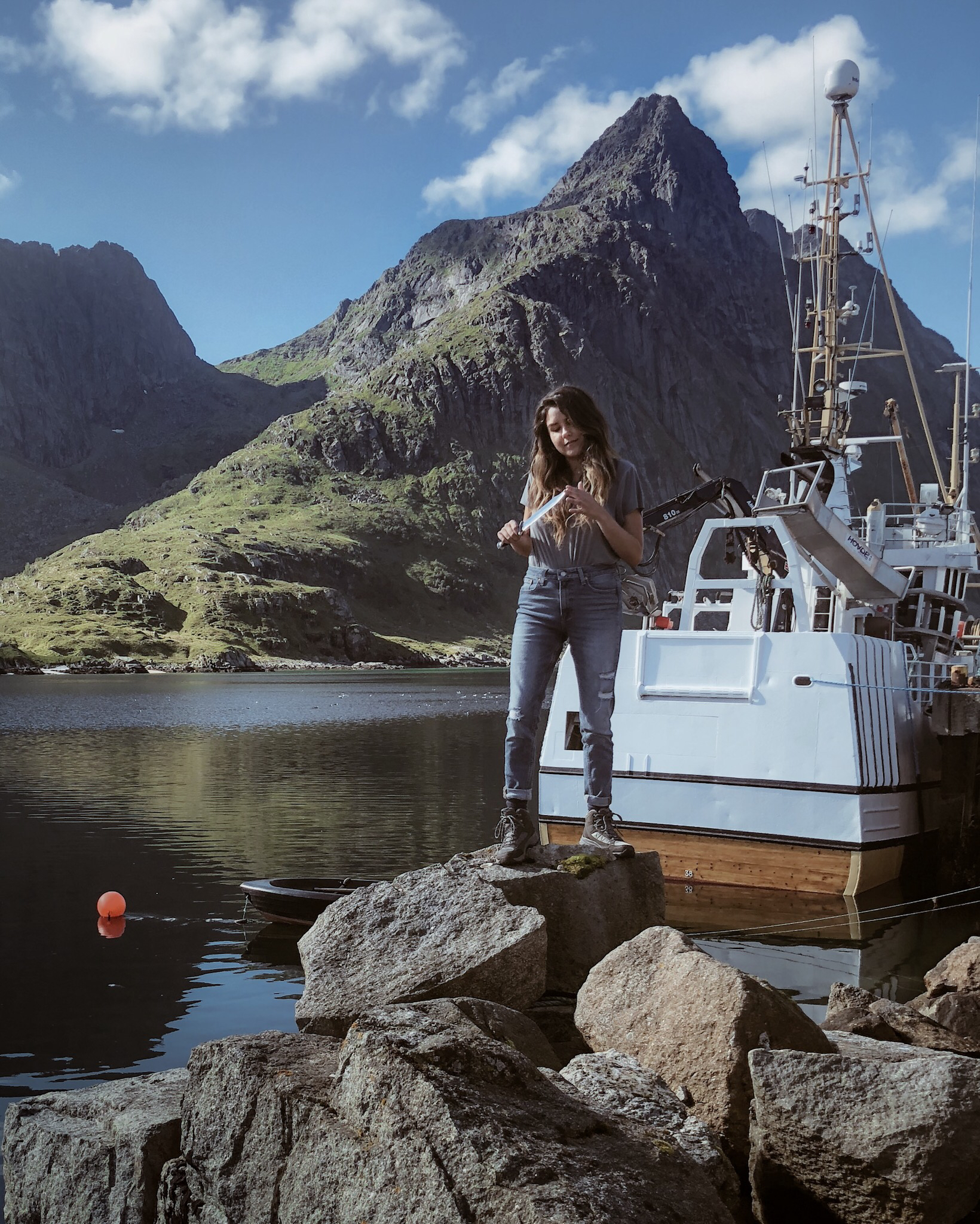 Kayla´s essentials
- Camera
- Waterproof hiking boots
- Windproof jacket
- Daypack
Terri´s essentials
- Rain jacket and good shoes
- Camera/sketch book
- Appetite for adventure